Dear Students:
I find that whenever I am feeling anxious if I get down on the floor and gently explore movements it takes me to a different place inside myself.  I encourage you to make time to explore Feldenkrais movements on your own during this season.  My video page may give you some ideas.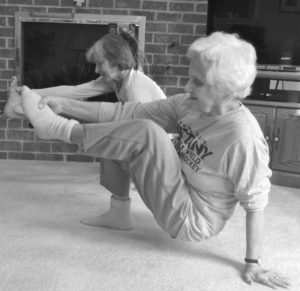 "(Donna) You are brilliant in your delivery of the cues that change our bodies and minds. I loved the challenge of today's (class) session. It was so clear & so confusing at the same time. You know, it is the care with which you offer your gifts that makes them have the power they do.  I treasure you. Thank you for being true. Fearlessly true." ~Maureen
"I could barely walk for four days because I had sciatic nerve pain so badly.  I turned down the conventional method of steroids and rest and went to see Donna.  Incredibly after seeing her for only one week  (of private sessions) I was able to return to work!"
~Kevin F. Tretter,  U.P.S. Package & Delivery Driver
Please take note that my Feldenkrais class will take a 2 week break beginning the last week of December.
Have a safe and peaceful holiday season!
~Donna