A Typical Functional Integration® Session:
Donna uses her deep knowledge of movement development to teach people how to function more efficiently.  Improving the quality of functions such as sitting, climbing, standing, and walking is essential for restoring and maintaining the health of one's back, legs, and arms.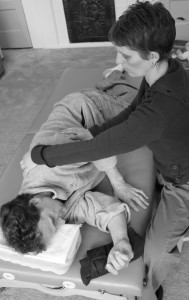 During a session, Donna will gently move your limbs and torso with direct precision to release any unnecessary tension in your muscles.  She will introduce you to larger guided movements to help improve your functioning.  As daily movements change, the needless stress on your joints will lessen and thereby prevent overuse injuries.  Donna's work with you will help stimulate your brain's innate ability to form additional neurological pathways. Your physical as well as your mental functioning and well-being will continue to improve well beyond your session.
Students Enjoy Sessions: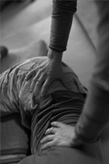 People, regardless of limitations, will experience change happening during a session. Students become empowered and enjoy learning how to help themselves through Donna's encouraging teaching methods. Donna's students have described her guided gentle touch as feeling "better than a massage".
Donna helps people dealing with issues such as:
Walking & Balancing Problems
Hip, Knee, Ankle & Foot Injuries
Shoulder, Elbow, Wrist & Hand Injuries
Recovery from Leg, Arm & Back Surgeries
Back Pain
Sciatic Nerve Pain
Herniated Disc Problems
Scoliosis Problems
Neurological & Brain Injuries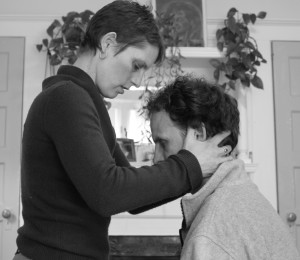 "A Functional Integration® session with Donna relieved my chronic pain, for the first time in years. Because Donna is the only professional that has helped me, I sometimes refer to her as the "magic pain healer". Personal sessions with her are like beautiful treats in life."
~Beate Schulz, College Professor & Mother
Success Stories:
Hafsa M.: "I had it inside me all along."
Janet Westphal: "My Impossible Dream".
Rene Thomas Smey:  "Overall, it was truly amazing."
~~~~~~~~~~~~~~~~~~~~~~~~~~~~~~~~~~~~~~~~~~~~~~~~~~


 ~~~~~~~~~~~~~~~~~~~~~~~~~~~~~~~~~~~~~~~~~~~~~~~~~
Donna Bervinchak is available for private sessions by appointment only.
"Everyday I feel grateful for the method that Dr. Moshe Feldenkrais gave the world.  Because of the Feldenkrais Method® I have an ever increasing awareness that continuously opens capabilities for me that I never before dreamt possible."
 ~Donna L. Bervinchak, Feldenkrais / Child'Space Practitioner
~~~~~~~~~~~~~~~~~~~~~~~~~~~~~~~~~~~