Dear Students:
Whenever someone comes to me for help I always search for the root cause of their problem.  For instance, if I work with a person experiencing back pain, I focus on seeing what he is doing to induce it.  If I find that the culprit is due to the way he habitually sits I bring this to his attention.  Then I embark on the process of teaching him how to sit more efficiently through hands on Functional Integration sessions and Awareness Through Movement lessons.  When he senses the difference between sitting his habitual way versus a more efficient way then he can choose the way that results in comfortable movement.  Understanding what the root of a problem is opens one up to new possibilities and empowerment.
For me the root of my problem is wireless smart meters.  As many of you know I no longer have an office to work at because of the harmful effects of smart meters. The fact is, Lancaster county has smart meters on every building except where people are lawfully fighting for their rights.  A solution for me and everyone is to create a smart meter free environment and will require community effort.  Here are the steps I am taking so I can work again in a healthy location!
First I am educating people about the truth regarding radiating, trespassing smart meters.  SecondIy I am organizing a town hall meeting to teach people how to take the proper steps to successfully get smart meters removed from their homes, work places and surrounding buildings.  Next with a seed group of like minded individuals, we will support those that choose to stand up and we will walk on this journey together.  I have been privileged to witness the transformation in a company of people that are already doing this and am grateful and honored to strongly stand with them.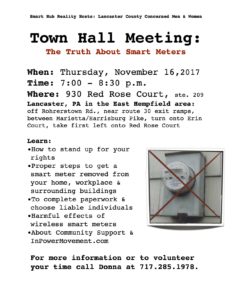 The video that I have included is very empowering and I highly recommend to take the time to watch it.  Following is a quote that I think appropriately describes the men that are leading the InPower movement, Josh del Sol and Cal Washington.  I feel blessed that they are living on the earth today!
"When there are many men lacking in decency, there are always others who have in themselves the decency of many.

  

They are the ones who rebel with terrible force against the robbers of their peoples' freedom - hence robbers of their decency.

  

Such men are the embodiment of thousands, of a whole people, of human dignity.

  

Such men are sacred." ~Jose Marti, quoted by Gregoriao Seiser in Sandino (Light and Truth, Dec. 1984).
I hope to see many of you on November 16th to begin the process of creating a better tomorrow for everyone!
~Donna
F.Y.I.  After watching the video you may want to watch episode 2.  If you need help filling out the documents, people at the town hall meeting can help you or call me at 717.898.3359.